The Clek Liingo infant seat has undergone rigorous dynamic crash testing, including:
Compliance testing which is federally required and represents 98% of all real-world crashes
NCAP testing which simulates forces experienced in extreme crashes
Side-impact and other extensive due-care testing which tests conditions outside of compliance testing, such as structural integrity for maximum occupant weight and various installation positions, the effect of extreme temperatures, misuse conditions, etc.
The Federal Government has established dynamic performance (crash testing) criteria that all Child Restraint Systems are required to meet. These criteria are used to assess the probability of injury.
Shown below are the independent results of the forces measured during FMVSS213 crash testing for installation using the Lap/Shoulder belt installation (Euro belt path method).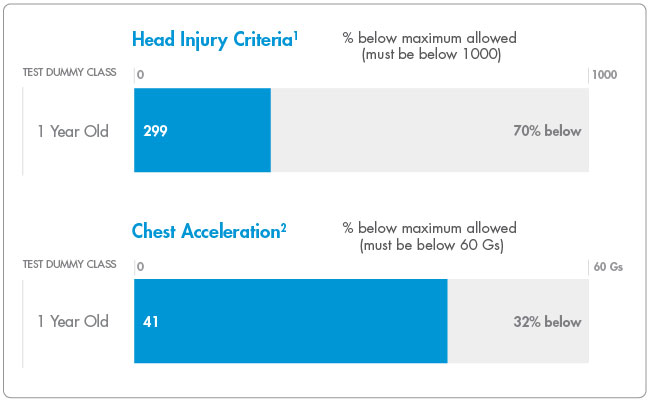 Head Injury Criteria (HIC) is used to assess the probability of a head injury. HIC is determined using the resultant acceleration at the center of gravity of the head. The threshold limit is 1000.

Chest Acceleration is measured in Gs and is used to assess the probability of a chest injury. The threshold limit is 60 Gs.